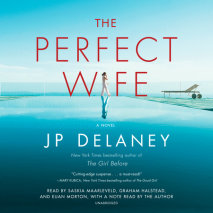 The perfect lie. The perfect love. The perfect lie. From the bestselling author of The Girl Before comes a gripping new psychological thriller. . . ."Dynamic, razor-sharp, and thought-provoking . . . a cutting-edge suspense novel unlike any you...
Award-winning author Brad Parks delivers a tense novel of thrills, twists, and deceit that grabs you and won't let go until the final, satisfying page.   Tommy Jump is an out-of-work stage actor approached by the FBI with the role of a lif...
From international bestselling author Brad Parks comes a gripping story and prequel to his new thriller, The Last Act.After a career rising through the ranks, Mitchell Dupree has finally landed his dream job: compliance director for the Latin America...
If you want to learn about yourself, start by exploring the world around you. Drawing on the rich experience of his own life, best-selling author Paulo Coelho takes us back in time to relive the dreams of a generation that longed for peace and d...
A supernatural story of love, ghosts, and madness as a young couple, newly engaged, become caretakers of a historic museum.When Nick Beron and Hannah Rampe decide to move from New York City to the tiny upstate town of Hibernia, they aren't exactly ru...
Bestselling author and world-renowned chef David Lebovitz continues to mine the rich subject of his evolving ex-Pat life in Paris, using his perplexing experiences in apartment renovation as a launching point for stories about French culture, food, a...
"A magical story full of humor and heart." —Katherine Applegate, Newbery-winning author of The One and Only Ivan   For fans of The Hero's Guide to Saving Your Kingdom comes an offbeat, comedic spin on the Excalibur legend...