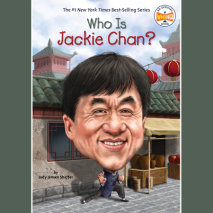 How did Jackie Chan become one of the most recognizable and beloved actors in the world? Find out in this exciting biography of this martial artist turned international film superstar.When Kong-sang was a young boy in Hong Kong, he enjoyed practicing...
Side characters can be heroes too in this charming and fast-paced adventure that is The Land of Stories meets The Phantom Tollbooth!Indira has been a character-in-waiting her entire life. So she can't believe her luck when she's finally chosen to tra...
*** SHORTLISTED FOR THE BAILLIE GIFFORD PRIZE FOR NON-FICTION 2019FINALIST FOR THE 2019 CUNDILL HISTORY PRIZE SHORTLISTED FOR THE NAYEF AL-RODHAN PRIZE FOR GLOBAL UNDERSTANDINGSHORTLISTED FOR DEUTSCHER PRIZE***'Revelatory and instructive… [a] ...
A revelatory history of the trafficking of young Asian girls that flourished in San Francisco during the first hundred years of Chinese immigration (1848-1943) and an in-depth look at the "safe house" that became a refuge for those seeking their free...
An Instant New York Times Bestseller!Return to the immersive, action-packed world of Warcross in this thrilling sequel from #1 New York Times bestselling author Marie LuEmika Chen barely made it out of the Warcross Champ...
The highly anticipated sequel to New York Times bestselling Flame in the Mist--an addictive, sumptuous finale that will leave readers breathless from the bestselling author of The Wrath and the Dawn. After Okami is captured in the Jukai forest, Marik...
From #1 New York Times bestselling author Marie Lu—when a game called Warcross takes the world by storm, one girl hacks her way into its dangerous depths. For the millions who log in every day, Warcross isn't just a game—i...
From the #1 New York Times bestselling author of The Wrath and the Dawn, comes a sweeping, action-packed YA adventure set against the backdrop of Feudal Japan where Mulan meets Throne of Glass.   The daughter of a prominent samurai, Mariko has l...