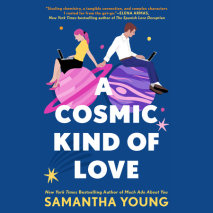 Space is the last thing an event planner and an astronaut need in this charming new romantic comedy from New York Times bestselling author Samantha Young. When event planner Hallie Goodman receives party-inspiration material from the bride of her lat...
Playing house in the mountains was supposed to be temporary, but a woman would have to be made of stone to resist the most eligible bachelor in Pine Ridge and all his small-town charm.…Denny Torres needs a break. After a series of embarrassmen...
Opposites burn hot enough to melt the snow and ice of an Alaskan winter in this all-new series from USA Today bestselling author Megan Crane.Quinn Fortune is the official protector of all the unspoiled beauty in Lost Lake, Alaska, as the head of the ...
Falling for your best friend might be a recipe for disaster, but this small-town baker can't help jumping from her pie pan into the fire.Mila Bailey has always had a special talent for creating unique, show-stopping pies. But until her great-aunt lea...
A down-on-her-luck city girl searches for new purpose among the shelves of a failing bookstore in the quaint town of Pine Ridge, New York—until a forbidden love tempts her to go off-book.When life sets fire to your happily ever after, you ditch...
She thought she'd buried her past. But what if it's been hunting her this whole time?From the bestselling and award-winning author of The Marsh King's Daughter comes a startling novel of psychological suspense as two generations of sisters try to unr...
The women who spent their childhood summers in a small southern town discover it harbors secrets as lush as the marshes that surround it...   Bonny Blankenship's most treasured memories are of idyllic summers spent in Watersend, South Caro...