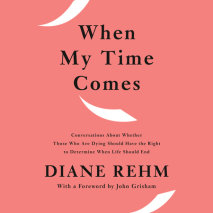 From Diane Rehm, renowned radio host--one of the most trusted voices in the nation--and best-selling author: a book of candor and compassion, addressing the urgent, hotly contested cause of the Right-to-Die movement, of which she is one of our most i...
Red Rising meets The Scorpio Races in this epic fantasy following three phoenix horse riders--skilled at alchemy--who must compete at The Races--the modern spectacle that has replaced warfare within their empire.Every year since the Ashlords were gif...
From a Coast to Coast AM insider, a mind-expanding exploration of sleep disorders and unusual dream states--the scientific explanations and the paranormal possibilities.The sleeping mind is a mysterious backdrop that science is just beginning to shed...
Delve into the history of the sinister Count Dooku in this audio original set in a galaxy far, far away….   Darth Tyranus. Count of Serenno. Leader of the Separatists. A red saber, unsheathed in the dark. But who was he, before he became ...
An incredible true tale of espionage and engineering set at the height of the Cold War—a mix between The Hunt for Red October and Argo—about how the CIA, the U.S. Navy, and America's most eccentric mogul spent six years and nea...