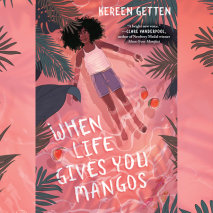 "A wonderful story with great heart, mystery, and insight. Kereen Getten is a bright new voice." —Clare Vanderpool, author of Newbery Medal winner Moon Over Manifest and Printz Honor book Navigating Early For fans of deeply ...
A. S. King meets Chris Crutcher in boxing journalist Sarah Deming's YA novel about a young female boxer who learns to fight for what she wants. Gravity "Doomsday" Delgado is good at breaking things. Maybe she learned it from her broken home.But sinc...
In the tumult of 1970s New York City, seventh graders are bussed from their neighborhood in Queens to integrate a new school in South Jamaica.Jamila Clarke. Josie Rivera. Francesca George. Three mixed-race girls, close friends whose immigrant parents...
One of NPR's Best Books of 2019A second chance doesn't guarantee a touchdown in this new contemporary romance from the author of Intercepted.Single-mother Poppy Patterson moved across the country when she was sixteen and pregnant to find a new normal...
A glittering landscape of twenty-five speculative stories that challenge oppression and envision new futures for America—from N. K. Jemisin, Charles Yu, Jamie Ford, G. Willow Wilson, Charlie Jane Anders, Hugh Howey, and more. In these...
The foremost diverse children's authors--including Jason Reynolds, Jacqueline Woodson, and Kwame Alexander--share answers to the question, "In this divisive world, what shall we tell our children?" in this powerful collection, published in partnershi...
Jacqueline Woodson is the 2018-2019 National Ambassador for Young People's LiteratureJacqueline Woodson's first middle-grade novel since National Book Award winner Brown Girl Dreaming celebrates the healing that can occur when a group of students sha...
This elegant young adult novel captures the immigrant experience for one Indian-American family with humor and heart. Told in alternating teen voices across three generations, You Bring the Distant Near explores sisterhood, first loves, fri...