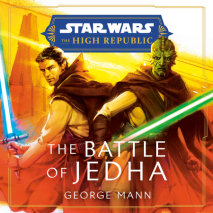 After the events of The High Republic: Convergence, the Jedi travel to Jedha in this all-new Star Wars audiobook original. Jedha. The worn streets of this ancient world serve as a confluence for the galaxy. Visited by all, yet owned by none. Her...
NOW IN A NEW UNABRIDGED AUDIO EDITION, READ BY RAPHAEL CORKHILLFor more than twenty years, New York Times bestselling author Terry Brooks has proven himself one of the modern masters of fantasy, winning the hearts and minds of devoted readers a...
NOW IN A NEW UNABRIDGED AUDIO EDITION, READ BY RAPHAEL CORKHILL"If Harry Potter has given you a thirst for fantasy and you have not discovered the magic of Terry Brooks, you are in for a treat."—Rocky Mountain NewsBrave explorers le...
NOW IN A NEW UNABRIDGED AUDIO EDITION, READ BY RAPHAEL CORKHILL"The action is fast and furious . . . A fitting conclusion to one trilogy and a promising taking-off point for another."—BooklistHarrowing confrontations with the mercil...
"The most important book on AI this year." --The Guardian"Mr. Russell's exciting book goes deep, while sparkling with dry witticisms." --The Wall Street Journal"The most important book I have read in quite some time" (Daniel Kahneman); "A must-read" ...
Unconventional--yet effective--parenting strategies, carefully curated by the creator of the popular podcast The Longest Shortest TimeSome of the best parenting advice that Hillary Frank ever received did not come from parenting experts, but fro...
The prequel to Dracula, inspired by notes and texts left behind by the author of the classic novel, Dracul is a supernatural thriller that reveals not only Dracula's true origins but Bram Stoker's--and the tale of the enigmatic woman w...
"A dazzling high-wire act. I turned every page with a sense of wonder and excitement." —RICHARD RUSSOA richly layered novel of love, ambition, and duplicity, set against the storied seascape of Newport, Rhode Island   A re...