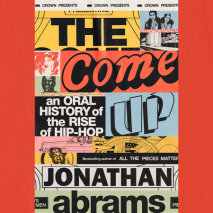 The essential oral history of hip-hop, from its origins on the playgrounds of the Bronx to its reign as the most powerful force in pop culture—from the award-winning journalist behind All the Pieces Matter, the New York Times bestselling oral h...
The American boxing champ and vocal civil rights activist Muhammad Ali is the 27th hero in the New York Times bestselling picture book biography series for ages 5 to 8, adapted for audio.Muhammad Ali was the leading heavyweight boxer of the 20th cent...
Now an Apple TV+ documentary, Lincoln's Dilemma, airing February 18, 2022.One of the Wall Street Journal's Ten Best Books of the Year | A Washington Post Notable Book | A Christian Science Monitor and Kirkus Reviews Best Book of 2020Winner of the Gil...
Learn how Fred Rogers, a minister and musician from Pennsylvania, became one of America's most beloved television personalities and everyone's favorite neighbor.Even though he's best known for his successful PBS series Mister Rogers' Neighborhood, Fr...