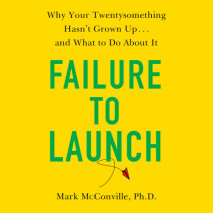 From an expert in adolescent psychology comes a groundbreaking, timely, and necessary guide for parents of the 2.2 million young adults in America who are struggling to find their way in the world.In Dr. Mark McConville's decades of experience as a f...
A fascinating look at rescue dogs--where they come from, why every dog lover should consider adopting one, and how to make them part of your family.America's leading undercover animal investigator, Pete Paxton, has, among other exploits, infiltrated ...
From the authors of the international bestseller Why Nations Fail, a crucial new big-picture framework that answers the question of how liberty flourishes in some states but falls to authoritarianism or anarchy in others--and explains how it can...
The fascinating true story of how a group of visionary attorneys helped make American business synonymous with Big Business, and Wall Street the center of the financial world"Entertaining."—The Wall Street Journal The legal professi...
A captivating middle-grade adaptation of the New York Times bestseller about George Washington's top-secret spy ring that helped defeat the British.The American Revolution is well under way in 1776, but things are looking bleak for General George Was...
Mental health is . . . being yourself.A prescriptive and positive guide, making the case that mental well-being, like physical health, can be strengthened over time and with specific techniquesWe all want to feel less anxiety, guilt, anger and sadnes...
While most of us have moments of loving freely and openly, it is often hard to sustain this where it matters most--in our intimate relationships. Why, if love is so great and powerful, are human relationships so challenging and difficult? If love is ...
The thrilling story behind the American pilots who were secretly recruited to defend the nation's desperate Chinese allies before Pearl Harbor and ended up on the front lines of the war against the Japanese in the Pacific.  Sam Kleiner&rsq...