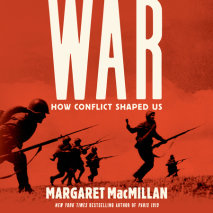 From the bestselling author of Paris 1919 comes a provocative view of war as an essential component of humanity and our history. Is peace an aberration? "Margaret MacMillan has produced another seminal work. . . . She is right that we must...
Building from his acclaimed anthology Tales of Two Americas, beloved writer and editor John Freeman draws together a group of our greatest writers from around the world to help us see how the environmental crisis is hitting some of the most vulnerabl...
A TODAY SHOW #ReadWithJenna BOOK CLUB PICK!For readers of Tommy Orange, Yaa Gyasi, and Jhumpa Lahiri, an electrifying debut novel about three unforgettable characters who seek to rise--to the middle class, to political power, to fame in the movies--a...
Protecting her identity means life or death in this immersive epic fantasy inspired by the Mughal Empire.  In a different life, under a different name, Razia Khan was raised to be the Crown Prince of Nizam, the most powerful kingdom in Dary...
The electrifying sequel to the national bestseller Smoke - bringing back readers to a world that Entertainment Weekly called "Part Dickens, part dystopia, and totally immersive."The year is 1909. It has been ten years since Thomas Argyle, Charlie Coo...
"So funny, smart, sophisticated, and captivating, you just want to spend your whole life with it."--Kevin Kwan, author of Crazy Rich AsiansIn this modern reimagining of Jane Austen's Emma, Delhi's polite society is often anything but polite.Beautiful...
Rudyard Kipling's best-loved book is now the basis for the Netflix film Mowgli: Legend of the Jungle starring Christian Bale, Cate Blanchett, Benedict Cumberbatch, Freida Pinto, and Rohan ChandThe story of Mowgli, the abandoned "...
INSTANT NEW YORK TIMES BESTSELLER • NEW YORK'S "ONE BOOK, ONE NEW YORK" PICKNamed One of the Best Books of 2018 by: Washington Post • NPR • People • Refinery29 • Parade &bu...