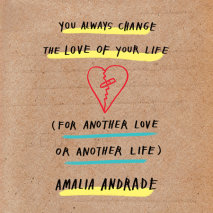 A delightful interactive roadmap for getting over a broken heart, with quirky illustrations, song lyrics that totally get it, recipes for eating your feelings, the unique comfort of making lists, and much more

A broken heart can feel like the end of the world, but bestselling author and illustrator Amalia Andrade knows this simply isn't true.
"Echoes of Elena Ferrante resound in this sumptuous saga."--O, The Oprah Magazine

"Enveloping...Peebles understands the shifting currents of female friendship, and she writes so vividly about samba that you close the book certain its heroine's voices must exist beyond the page.