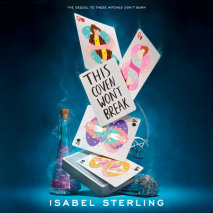 In this gripping, romantic sequel to These Witches Don't Burn, Hannah must work alongside her new girlfriend to take down the Hunters desperate to steal her magic.Hannah Walsh just wants to finish high school. It's her senior year, so she should be f...
#1 New York Times bestselling author Andy Weir and acclaimed illustrator Sarah Andersen tackle what transpires after "happily ever after." What happens to Alice when she comes back from Wonderland? Wendy from Neverland? Dorothy from Oz...
"Infused with page-turning suspense, bittersweet romance, shocking twists, and tragic turns, Sterling has written a standout debut." --Dana Mele, author of People Like UsHannah's a witch, but not the kind you're thinking of. She's the real deal, an E...
Join Max's quest to become a knight in this laugh-filled adventure from theNew York Times bestselling author of the Big Nate series!"Max is epic fun!" --JEFF KINNEY, New York Times bestselling author of the DIARY OF A WIMPY KID seriesM...