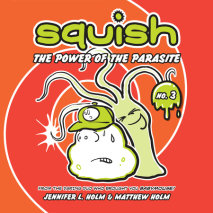 Soon to be an animated show on HBO Max!It's SQUISH—a hilarious, action packed graphic novel series, now adapted for audio, from the award-winning creators of Babymouse! Filled with superheroes, comics within comics, and gross-out science, Squ...
"Fun, funny, hot, and heartfelt...The apocalyptic beach read that everyone needs." - Alix E. Harrow, Hugo Award-winning authorA paranormal romantic comedy at the (possible) end of the world.From New York Times bestselling author Gwenda Bond...
Devil in the Device brims with brilliant world-building and richly-imagined characters—a great encapsulation of everything that makes science fiction so much fun!"  —Andrea Tang, author of Rebelwing and Renegade Flight Zhade's...
Eden faces a final reckoning when the cult's past victims hunt them down in this explosive, high-stakes thriller in the Sacramento series from New York Times bestselling author Karen Rose.   For decades, Eden has remained hidden in the remote wi...
From the vast lore surrounding King Arthur, Camelot, and the Knights of the Round Table, comes an anthology of gender-bent, race-bent, LGBTQIA+ inclusive retellings. Featuring stories by:Alexander Chee • Preeti Chhibber • Roshani Chokshi &b...
Mercy Callahan thought she'd escaped the cult decades ago, but its long fingers are reaching out for her again in this electrifying novel in the Sacramento series by New York Times bestselling author Karen Rose.Seventeen years ago. That was the last ...
Andra wakes up from a cryogenic sleep 1,000 years later than she was supposed to, forcing her to team up with an exiled prince to navigate an unfamiliar planet in this smart, thrilling sci-fi adventure, perfect for fans of Renegades and Aurora Rising...
A serial killer terrorizing the women of Sacramento meets his match in this pulse-pounding novel from New York Times bestselling author Karen Rose.There is a serial killer on the loose, preying on vulnerable women. The only identifiable mark the kill...