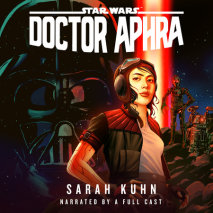 Dr. Aphra teams up with Darth Vader himself in this audiobook original—an expanded adaptation of the critically acclaimed Marvel comics series, performed by a full cast. Dr. Chelli Lona Aphra, rogue archaeologist, is in trouble again.   A ...
THE INSTANT NEW YORK TIMES BESTSELLER! For readers of Kara Thomas and Karen McManus, an addictive, twisty crime thriller with shades of Serial and Making a Murderer about a closed local murder case that doesn't add up, and a girl who's determine...
A leading religious freedom attorney, the veteran of several Supreme Court battles, helps people of faith understand religious liberty in our rapidly changing culture—why it matters, how it is threatened, and how to respond with confidence ...
Inspired by her blockbuster phenomenon Wonder, R. J. Palacio presents an unforgettable story of the power of kindness and unrelenting courage in a time of war. In R. J. Palacio's bestselling collection of stories Auggie & Me, which expands o...
"If John Irving ever wrote a horror novel, it would be something like this. I loved it." —Stephen KingNoah Turner sees monsters.His father saw them—and built a shrine to them with The Wandering Dark, an immersive horror experie...
#1 New York Times bestselling author Andy Weir and acclaimed illustrator Sarah Andersen tackle what transpires after "happily ever after." What happens to Alice when she comes back from Wonderland? Wendy from Neverland? Dorothy from Oz...
In the iconic film by Robert Zemeckis and Bob Gale, teenaged Marty McFly travels back in time from the 1980s to the 1950s, changing the path of his parents' destiny...as well as his own. Now fans of the movie can journey back even further--to the 16t...
An exhilarating, original novel, set in Brazil, Idaho, and outer space, about an obsessive librarian, a down-at-heel author, and a disgraced historian who go on the hunt for a mystical, life-changing book--and find it. The Infinite Future is a m...