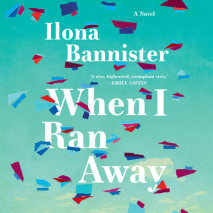 A rich, bighearted debut that takes us from working-class Staten Island in the wake of the September 11th attacks to moneyed London a decade later, revealing a story of loss, motherhood, and love.As the Twin Towers collapse, Gigi Stanislawski flees h...
From the #1 New York Times bestselling author of All the Bright Places comes a compulsively readable novel about a young woman determined to write her own story--sex, heartbreak, family dramas, and all.With high school coming to an end, Claudine Henr...
A dream world turns haunting nightmare in this spellbinding debut novel, perfect for fans of Circus Mirandus and The Night Gardener.After Andrea's brother, Francis, disappeared, everything changed. Her world turned upside down, and there was nothing ...
THE INSTANT NEW YORK TIMES BESTSELLERWho has the right to change the world forever?  How will we live online?  How do we find comfort in an increasingly isolated world?   The Carls disappeared the same way they appeared, in an ins...
A woman in search of a fresh start is about to get more than she bargained for in this twisty and addictive domestic thriller for fans of The Couple Next Door.Fleeing Brooklyn with little more than a suitcase and her trusty dog, Lucy King heads to ru...
"A DELICIOUS HIGH-STAKES ADVENTURE." --PEOPLE MAGAZINEPerfect for fans of Victoria Aveyard and Holly Black, The Kinder Poison is an enthralling fantasy adventure that follows a teenage girl chosen to be the human sacrifice in a deadly game between th...
In the faux-documentary style of The Blair Witch Project comes the campfire story of a missing girl, a vengeful ghost, and the girl who is determined to find her sister--at all costs.Once a year, a road appears in the forest. And at the end of it, th...