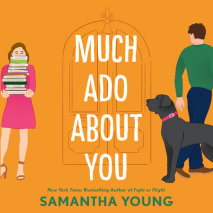 The cozy comforts of an English village bookstore open up a world of new possibilities for Evie Starling in this charming new romantic comedy from New York Times bestselling author Samantha Young. At thirty-three-years old Evangeline Starling's...
From the award-winning, best-selling author comes a rollicking novel with a dark undertow, set around three unforgettable individuals and a doomed movie set.A producer. A novelist. An actress. It's summer 1968--a time of war and assassinations, prote...
A fast-paced thriller about a girl who discovers that her mother might not be who she says she is . . . and now someone is hunting them both.Katelyn wants the best for her widowed mom. Surprising her with an online dating profile seems like a good id...
A disgraced chef rediscovers her passion for food and her roots in this stunning novel rich in culture and full of delectable recipes.French-born American chef Sophie Valroux had one dream: to be part of the 1% of female chefs running a Michelin-star...