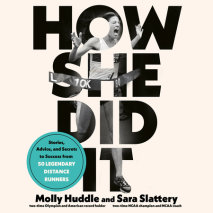 An essential guide for female athletes navigating the world of competitive running, featuring 50 candid interviews with women who've made itHow She Did It begins with the kind of prescriptive information that any athlete needs to be healthy and succe...
Delicious gossip squares off with genuine heart in this inside look at a K-pop academy.Every Friday after school, seventeen-year-old Alice Choy and her little sister, Olivia, head to Myeongdong to sing karaoke. Back in San Francisco, when she still h...
In this Star Wars audio original, delve into the cutthroat world of one of the High Republic's greatest foes, the merciless Lourna Dee.   The Nihil storm has raged through the galaxy, leaving chaos and grief in its wake. Few of its raiders...