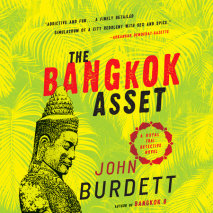 Sonchai Jitpleecheep—the brash and beguiling Royal Thai Police Force detective who has been our guide through John Burdett's five previous acclaimed Bangkok novels—is back. The former monk and devout Buddhist, forever battling to pr...
Sonchai Jitpleecheep—John Burdett's inimitable Royal Thai Police detective with the hard-bitten demeanor and the Buddhist soul—is summoned to the most shocking and intriguing crime scene of his career. Solving the murder could mean ...
Nobody knows Bangkok like Royal Thai Police Detective Sonchai Jitpleecheep, and there is no one quite like Sonchai: a police officer who has kept his Buddhist soul intact—more or less—despite the fact that his job shoves him face-to-face ...
From Tana French, author of The Witch Elm, a New York Times bestselling novel that "proves anew that [Tana French] is one of the most talented crime writers alive" (The Washington Post).  "Required reading f...
Named Book of the Month Club's Book of the Year, 2017Selected one of New York Times Readers' Favorite Books of 2017Winner of the 2018 Goldsboro Books Glass Bell Award From the beloved New York Times bestselling author of The Boy In the Str...
"An absolutely mesmerizing read. . . . Tana French is simply this: a truly great writer." —Gillian Flynn Read the New York Times bestseller by Tana French, author of The Witch Elm and "the most important crime n...