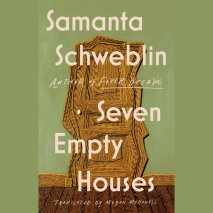 A blazing new story collection that will make you feel like the house is collapsing in on you, from the 3 time International Booker Prize finalist, "lead[ing] a vanguard of Latin American writers forging their own 21st-century canon." &nda...
Give in to this irresistible paranormal romance anthology filled with tales of the mortal and the monstrous. In Eternally Yours, fifteen of today's bestselling writers explore love in its many forms . . .Contributors include Kalynn Bayron, Kend...
"LUMINOUS and FULL OF HEART, this book is a STUNNING GEM."—Meg Cabot, #1 New York Times best-selling author of the Princess Diaries and Airhead seriesFrom the bestselling author behind Disney's The Swap comes a profoundly moving novel abo...
A fun and informative illustrated kids' guide, adapted for audio, to safely and productively navigating the digital landscape.Cellphones have become a fact of life, with children as young as eight (yes, eight!) getting their very own "dev...
When Isabel Perez travels to Barcelona to save her sister Beatriz, she discovers a shocking family secret in New York Times bestselling author Chanel Cleeton's new novel.   Barcelona, 1964. Exiled from Cuba after the revolution, Isabel Per...
This poignant debut novel in verse is a portrait of healing, as a young girl rediscovers life and the soothing power of nature after being freed from her abusive father. For most of her life, Lacey has been a prisoner without even realizing it. ...