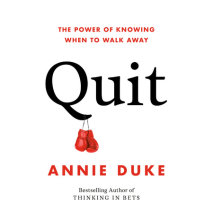 From the bestselling author of Thinking in Bets comes a toolkit for mastering the skill of quitting to achieve greater successBusiness leaders, with millions of dollars down the drain, struggle to abandon a new app or product that just isn&rsquo...
Through a blend of compelling exercises and stories, the bestselling author of Thinking in Bets will train you to combat your own biases, address your weaknesses, and help you become a better and more confident decision-maker.What do you do...
Wall Street Journal bestseller! Poker champion turned business consultant Annie Duke teaches you how to get comfortable with uncertainty and make better decisions as a result.In Super Bowl XLIX, Seahawks coach Pete Carroll made one of the most contro...