The seventh book of the bestselling Rivers of London urban fantasy series returns to the adventures of Peter Grant, detective and apprentice wizard, as he solves magical crimes in the city of London.

The Faceless Man, wanted for multiple counts of murder, fraud, and crimes against humanity, has been unmasked and is on the run.
Ben Aaronovitch's bestselling Rivers of London urban fantasy series • "The perfect blend of CSI and Harry Potter." —io9

Suspicious deaths are not usually the concern of Police Constable Peter Grant or the Folly—London's police department for supernatural cases—even when they happen at an exclusive party in one of the flats of the most expensive apartment blocks in London.
Peter Grant—cop, magical apprentice, and Londoner to the core—is being forced out of his comfort zone and into the English countryside. His latest case involves the disappearance of children in the small village of Herefordshire, and the local police are unwilling to admit there might be a supernatural element involved.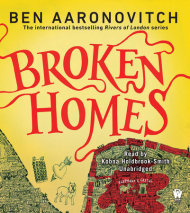 My name is Peter Grant, and I am a keeper of the secret flame -- whatever that is.

Truth be told, there's a lot I still don't know. My superior Nightingale, previously the last of England's wizardly governmental force, is trying to teach me proper schooling for a magician's apprentice.