"A dazzling debut, establishing Namwali Serpell as a writer on the world stage."—Salman Rushdie, The New York Times Book Review Longlisted for the Center for Fiction First Novel Prize • "Clear-eyed, energet...
"A satire of writerly ambition wrapped in a psychological thriller . . . An homage to Patricia Highsmith, Oscar Wilde and Edgar Allan Poe, but its execution is entirely Boyne's own."—Ron Charles, The Washington PostNAMED ONE O...
#1 New York Times BestsellerOprah's Book Club SelectionThe "extraordinary . . . monumental masterpiece" (Booklist) that changed the course of Ken Follett's already phenomenal career. Look out for Ken's newest book, A Column of Fire,...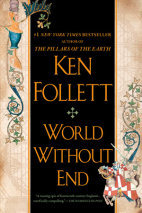 In 1989 Ken Follett astonished the literary world with The Pillars of the Earth, a sweeping epic novel set in twelfth-century England centered on the building of a cathedral and many of the hundreds of lives it affected. Critics were overwhelmed...
Of the many admiring reviews Bram Stoker's Dracula received when it first appeared in 1897, the most astute praise came from the author's mother, who wrote her son: "It is splendid. No book since Mrs. Shelley's Frankenstein or indeed any other a...