NEW YORK TIMES BESTSELLER • The highly anticipated sequel to the international bestseller, A Good Girl's Guide to Murder! More dark secrets are exposed in this addictive, true-crime fueled mystery. Pip is not a dete...
Inglourious Basterds meets Stranger Things in this dark and thrilling tale of power, shadow, and revenge set during World War II.World War II is raging, and five teens are looking to make a mark. Daniel and Rebeka seek revenge against the Nazis who s...
Two best friends create a computer that can predict the future. But what they can't predict is how it will tear their friendship—and society—apart."An impossibly addictive brainteaser wrapped in a buttery p...
One of PopSugar's Best Romances of OctoberWith the stakes this high, it's no longer just a game for the Mustang's quarterback in this romance by the author of Blitzed. Elliot Reed is living her best life—or pretending to. She o...
"The selections are uniformly uplifting, with affirming messages about the heritage, strength and dreams of African Americans."—Publishers Weekly In this compelling collection, thirteen major poets rise in response to the dazzling vistas a...
Rod Brown and Julius Lester bring history to life in this profoundly moving exploration of the slave experience. From the Middle Passage to the auction block, from the whipping post to the fight for freedom, this book presents not just historical fac...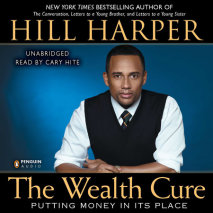 Unabridged, 7 hoursRead by TBDIn his second book for adults, the perennial New York Times- bestselling author helps readers discover how to put money in its place and use wealth-building as a tool for joy and fulfillment....