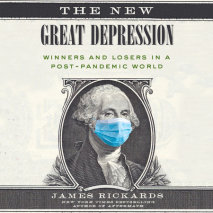 The man who predicted the worst economic crisis in US history shows you how to survive it.The current crisis is not like 2008 or even 1929. The New Depression that has emerged from the COVID pandemic is the worst economic crisis in U.S. history. Most...
A Wall Street Journal bestsellerFinancial expert, investment advisor and New York Times bestselling author James Rickards shows why and how global financial markets are being artificially inflated--and what smart investors can do to protect thei...
The bestselling author of The Death of Money and Currency Wars reveals the global elites' dark effort to hide a coming catastrophe from investors in The Road to Ruin, now a National Bestseller.   A drumbeat is sounding among the global elites. T...
**USA Today bestseller and Wall Street Journal business bestseller**They say John Maynard Keynes called gold a "barbarous relic." They say there isn't enough gold to support finance and commerce. They say the gold supply can't increase fa...