#1 New York Times Bestseller A definitive compendium of food wisdom Eating doesn't have to be so complicated. In this age of ever-more elaborate diets and conflicting health advice, Food Rules brings welcome simplicity to our daily decisions ab...
New York Times Book Review 10 Best Books of 2018A New York Times Notable Book The #1 New York Times bestseller.A brilliant and brave investigation into the medical and scientific revolution taking place around psychedelic drugs--a...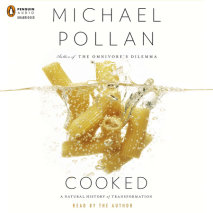 Michael Pollan, the bestselling author of The Omnivore's Dilemma, Food Rules, and How to Change Your Mind, explores the previously uncharted territory of his own kitchen in Cooked. Cooked is now a Netflix docus...