The instant New York Times bestseller | A Washington Post Notable Book | One of NPR's Best Books of the Year"Expert storytelling . . . [Pollan] masterfully elevates a series of big questions about drugs, plants and humans that are likely to lea...
#1 New York Times Bestseller"A useful and funny purse-sized manual that could easily replace all the diet books on your bookshelf." —Tara Parker-Pope, The New York Times A definitive compendium of food wisdom Eating doesn't have to b...
"Pollan keeps you turning the pages . . . cleareyed and assured." —New York TimesA #1 New York Times Bestseller, New York Times Book Review 10 Best Books of 2018, and New York Times Notable Book A brilliant ...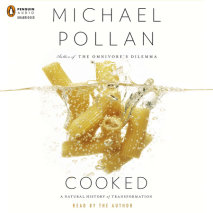 Michael Pollan, the bestselling author of The Omnivore's Dilemma, Food Rules, and How to Change Your Mind, explores the previously uncharted territory of his own kitchen in Cooked. Cooked is now a Netflix docus...