Microdoses of the straight dope, stories so true they had to be wrapped in fiction for our own protection, from the best-selling author of But What if We're Wrong?A man flying first class discovers a puma in the lavatory. A new coach of a small-...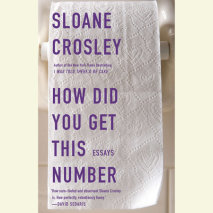 From the author of the sensational bestseller I Was Told There'd Be Cake comes a new book of personal essays brimming with all the charm and wit that have earned Sloane Crosley widespread acclaim, award nominations, and an ever-growing cadre of loyal...
Wry, hilarious, and profoundly genuine, this debut collection of literary essays is a celebration of fallibility and haplessness in all their glory. From despoiling an exhibit at the Natural History Museum to provoking the ire of her first boss to si...