Fudge is back and he's discovered money in a big way. He's making his own "Fudge Bucks," dressing as a miser for Halloween and thumbing through catalogs before bed, choosing birthday and Christmas presents years in advance - much to the emb...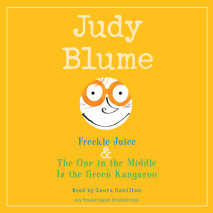 Two classic Judy Blume titles are available together!How exactly does one get freckles? For fifty cents, know-it-all Sharon has the answer--a secret family freckle recipe.In The One in the Middle is the Green Kangaroo, second-grader Freddy Dissel fee...
When Sally's family moves to Miami Beach for the winter of 1947, she's excited and nervous at the same time. What will school be like in Florida? Will she make any friends? Will she fit in so far away from home?But none of this stops Sall...
Sometimes life in the Hatcher household is enough to make twelve-year-old Peter think about running away. His worst problem is still his younger brother, Fudge, who hasn't changed a bit since his crazy capers in Tales of a Fourth Grade Nothing. If yo...