From the author of the acclaimed bestseller Holes, winner of the Newbery Award and the National Book Award, comes a new middle-grade novel with universal appeal. Combining horror-movie suspense with the issues of friendship, bullying, and the possibi...
How are we supposed to be partners? He can't see the cards and I don't know the rules!The summer after junior year of high school looks bleak for Alton Richards. His girlfriend has dumped him to hook up with his best friend. He has no mon...
Is your school just a little too…NORMAL?   Maybe you should go to Wayside School. You'll meet Bebe, the fastest draw in art class; John, who only reads upside down; and Sammy, the new kid—he's a real rat. Come on! Hurry ...
More teetering tales and quirky characters from the thirtieth floor of towering Wayside School. The craziness continues.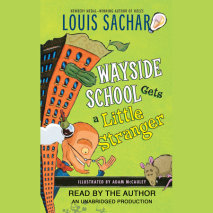 When their teacher, Mrs. Jewls, leaves to have her baby, the kids go through a series of substitutes, each one a little stranger than the last.