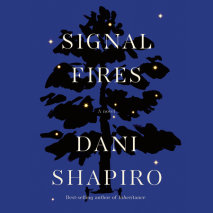 A "gripping" new novel (PEOPLE) from the best-selling author of Inheritance: On a summer night in 1985, three teenagers have been drinking. One of them gets behind the wheel of a car, and, in an instant, everything changes."A haunting, mo...
From one of the most gifted writers of her generation comes the harrowing and exquisitely written true story of how a family tragedy saved her life. Dani Shapiro was a young girl from a deeply religious home who became the girlfriend of a famous and ...
"Still Writing offers up a cornucopia of wisdom, insights, and practical lessons gleaned from Dani Shapiro's long experience as a celebrated writer and teacher of writing. The beneficiaries are beginning writers, veteran writers and everyo...
An Instant NEW YORK TIMES BESTSELLER A LOS ANGELES TIMES, BOSTON GLOBE, WALL STREET JOURNAL, and NATIONAL INDIE BESTSELLER A BEST BOOK OF THE YEAR according to Elle, Real Simple, and Kirkus Reviews "Memoir gold: a ...
The best-selling novelist and memoirist delivers her most intimate and powerful work: a piercing, life-affirming memoir about marriage and memory, about the frailty and elasticity of our most essential bonds, and about the accretion, over time, of bo...