Renowned author Joseph Bruchac tells a powerful story of a girl who learns more about her Penacook heritage while sheltering in place with her grandparents during the coronavirus pandemic.Malian loves spending time with her grandparents at their home...
A new work of historical fiction about Sequoyah and the creation of the Cherokee alphabet, from the acclaimed author of Code Talker Thirteen-year-old Uwohali has not seen his father, Sequoyah, for many years. So when Sequoyah returns to the vill...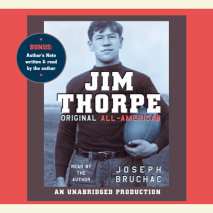 Jim Thorpe was one of the greatest athletes who ever lived. He played professional football, Major League b aseball, and won Olympic gold medals in track and field. He'll forever be remembered by the sports community and by his Native American ...