When Garnet finds a silver thimble in the sand by the river, she is sure it's magical. But is it magical enough to help her pig, Timmy, win a blue ribbon on Fair Day?


From the Trade Paperback edition.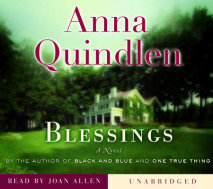 Late one night, a teenage couple drives up to the big white clapboard home on the Blessing estate and leaves a box. In that instant, the lives of those who live and work there are changed forever. Skip Cuddy, the caretaker, finds a baby girl asleep in that box and decides he wants to keep the child .