Nicky has freckles—they cover his face, his ears, and the whole back of his neck. Sitting behind him in class, Andrew once counted eighty-six of them, and that was just a start! If Andrew had freckles like Nicky, his mother would never know if ...
Quintessentially funny Judy Blume!Second grader Freddy Dissel has that left-out kind of feeling. Life seems lonely when you're the middle kid in the family. Freddy feels like "the peanut butter part of a sandwich," squeezed between an older brother a...
The beloved coming-of-age novel from the author whose "name has long been synonymous with young adult fiction" (Los Angeles Times).   "Are You There God? It's Me Margaret is very special." —Amy Poehler (Vultu...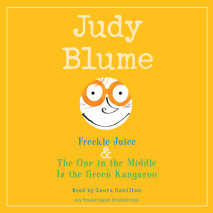 Two classic Judy Blume titles are available together!How exactly does one get freckles? For fifty cents, know-it-all Sharon has the answer--a secret family freckle recipe.In The One in the Middle is the Green Kangaroo, second-grader Freddy Dissel fee...