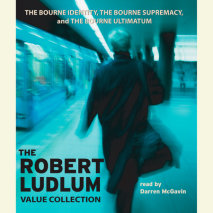 THE BOURNE IDENTITY-He is a man with an unknown past and an uncertain future. A man dragged from the sea riddled with bullets, his face altered by plastic surgery-a man bearing the dubious identity of Jason Bourne. Now he is running for his life, the...
Jason Bourne. He has no past. And he may have no future. His memory is blank. He only knows that he was flushed out of the Mediterranean Sea, his body riddled with bullets. There are a few clues. A frame of microfilm surgically implanted beneath ...
#1 NEW YORK TIMES BESTSELLER   At a small-town carnival, two men, each mysteriously summoned by telegram, witness a bizarre killing. The telegrams are signed "Jason Bourne." Only they know Bourne's true identity and understand ...
#1 NEW YORK TIMES BESTSELLER   Reenter the shadowy world of Jason Bourne, an expert assassin still plagued by the splintered nightmares of his former life. This time the stakes are higher than ever. For someone else has taken on the Bourne ident...