John Clark is put in the center spotlight, with the big guns trained on the complex and often controversial operations of the FBI.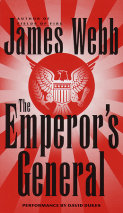 Captain Jay Marsh had never questioned where his ultimate loyalty lay. He had witnessed the bloody horror left behind by the retreating Japanese army during World War II's final days. And he had abandoned his beautiful Filipina fiancée to see hi...
Over the course of nine novels, Tom Clancy's genius for big, compelling plots and his natural narrative gift have mesmerized hundreds of millions of readers and established him as one of the preeminent storytellers of our time. Rainbow...