Winner of the 2022 National Book Award for Translated LiteratureA blazing new story collection that will make you feel like the house is collapsing in on you, from the 3 time International Booker Prize finalist, "lead[ing] a vanguard of Latin America...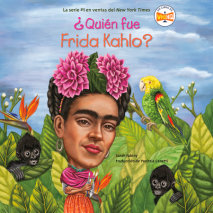 Descubra más sobre Frida Kahlo, la mujer que pasó a la historia como una de las artistas más emblemáticas del siglo XX. Find out more about Frida Kahlo, the woman who painted herself into history as one of the most ic...
NEW YORK TIMES BESTSELLER • This sweeping novel from the author of A Long Petal of the Sea tells the epic story of Violeta Del Valle, a woman whose life spans one hundred years and bears witness to the greatest upheavals of the twentieth ce...
A stunning and timely novel about a Mexican-American family in Brownsville, Texas, that reluctantly becomes involved in smuggling immigrants into the United States.From a distance, the towns along the U.S.-Mexican border have dangerous reputations--o...
Earthy, magical, and utterly charming, this tale of family life in turn-of-the-century Mexico became a best-selling phenomenon with its winning blend of poignant romance and bittersweet wit. The classic love story takes place on the De la Garza ranch...