The ultimate secret. The ultimate agent. Nathaniel Cade returns.For 140 years, Nathaniel Cade has been the President's Vampire, sworn to protect and serve his country. Cade's existence is the most closely guarded of White House secrets: a superhuman ...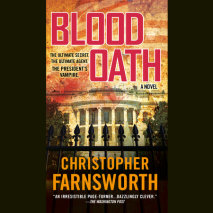 Zach Barrows is an ambitious young White House staffer whose career takes an unexpected turn when he's partnered with Nathaniel Cade, a secret agent sworn to protect the President. But Cade is no ordinary civil servant. Bound by a special blood oath,...
"When Jamie saw him throw the baby, saw Van throw the little baby, saw Van throw his little sister Nin, then they moved."Nin's okay–Jamie knows that because his mom was there to catch her. And then Jamie and his mom and Nin m...