From the New York Times bestselling, Booker Prize–winning author of Lincoln in the Bardo and Tenth of December comes a literary master class on what makes great stories work and what they can tell us about ourselves—and our world today.Fo...
A joyful middle grade novel based on the Netflix holiday film Jingle Jangle: A Chistmas Journey, starring Phylicia Rashad, Forrest Whitaker, Anika Noni Rose, Keegan Michael Key, and newcomer Madalen Mills, about an eccentric toymaker, his adventurous...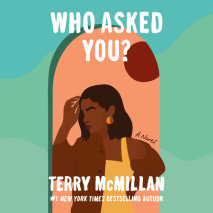 From the #1 New York Times bestselling author…"Remember Getting to Happy, Waiting to Exhale, and How Stella Got Her Groove Back? Well, you won't likely forget Terry McMillan's Who Asked You? either" (Raleigh N...
There are two files on Sahara Jones. The one the school counselor keeps is evidence that she's a fifth grader who needs special education. The other is the book Sahara is secretly writing, her Heart-Wrenching Life Story and Amazing Adventures.The lat...