A collection of seventeen wonderful short stories showing that two-time Oscar winner Tom Hanks is as talented a writer as he is an actor.

A gentle Eastern European immigrant arrives in New York City after his family and his life have been torn apart by his country's civil war.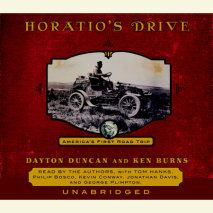 The companion volume to the PBS documentary film about the first—and perhaps most astonishing—automobile trip across the United States.

In 1903 there were only 150 miles of paved roads in the entire nation and most people had never seen a "horseless buggy"—but that did not stop Horatio Nelson Jackson, a thirty-one-year-old Vermont doctor, who impulsively bet fifty dollars that he could drive his 20-horsepower automobile from San Francisco to New York City.