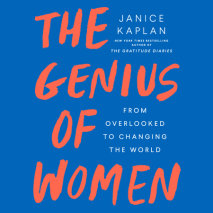 We tell girls that they can be anything, so why do 90 percent of Americans believe that geniuses are almost always men? New York Times bestselling journalist Janice Kaplan explores the powerful forces that have rigged the system—and celebrates ...
New York Times bestselling author Janice Kaplan examines the phenomenon of luck--and discovers the exciting ways you can grab opportunities and make luck for yourself every day. After spending a year researching and experiencing gratitude for The Gra...
In this New York Times bestseller, Janice Kaplan spends a year living gratefully and transforms her marriage, family life, work and health. Her pioneering reseach was praised in People and Vanity Fair and hailed on TV shows including Today, The O&rsq...