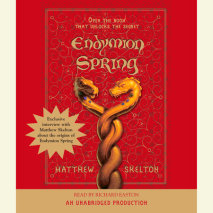 BONUS FEATURE: Exclusive interview with Matthew Skelton about the origins of Endymion Spring."You've stumbled on to something much larger than you can possibly imagine."In the dead of night, a cloaked figure drags a heavy box through snow-c...
Long ago, the great wizard Merlin planted the seed that would become the peaceful world of Avalon. Now, though, Avalon is suffering from mysterious droughts. And when the very stars begin to lose their light, it seems that the Lady of the Lake's dir...
Winner of the Pulitzer Prize--a powerful love story set against the backdrop of the Civil War, from the author of The Secret Chord.From Louisa May Alcott's beloved classic Little Women, Geraldine Brooks has animated the character of the absent father...