When Mary Ellen gets bored with her reading, Grandpa knows a hunt for a bee tree is just what she needs. Half the town joins the exciting chase, but it's not until everyone returns home that Mary Ellen makes a discovery of her own: sometimes, even th...
AN ECONOMIST BEST BOOK OF THE YEARFrom the author of the Pulitzer Prize-winning Gulag and the National Book Award finalist Iron Curtain, a revelatory history of one of Stalin's greatest crimes—the consequences of which still resonate todayIn 19...
A lively and provocative double biography of first cousins Eleanor Roosevelt and Alice Roosevelt Longworth, two extraordinary women whose tangled lives provide a sweeping look at the twentieth century. When Theodore Roosevelt became president in 1901...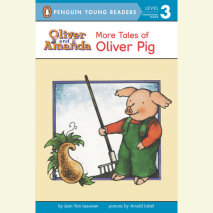 Five warm tales about Oliver and the Pig family.Meet Mother Pig, who is all-knowing and always loving. Then there's Father Pig, who is very clever and very kind. Oliver is the adventurous big brother, and finally there's Oliver's little sister, Amand...