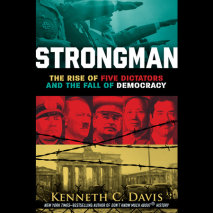 From the bestselling author of the Don't Know Much About books comes a dramatic account of the origins of democracy, the history of authoritarianism, and the reigns of five of history's deadliest dictators.What makes a country fall to a dictator? How...
Multi-million-copy bestselling historian Kenneth C. Davis sets his sights on war stories in The Hidden History of America at War. In prose that will remind you of "the best teacher you ever had" (People Magazine), Davis brings to life six emblematic ...
From bestselling author Kenneth C. Davis comes a treasure trove of answers to questions about our world.Was there an Atlantis?What's the smallest country in the world?What's the difference between a jungle and a rain forest?Kenneth C. Davis, author o...
For more than twenty years since his New York Times bestseller Don't Know Much About® History first appeared, Davis has shown that Americans don't hate history, just the dull version dished out in school. Now Davis turns his attenti...
Don't Know Much About Anything: Everything You Need to Know But Never Learned About Famous People, Exceptional Places, Historical Happenings, Holidays and Traditions, Everyday Objects, Remarkable Inventions, Space, Sports, Food, Entertainment and Mor...
"Fun, engrossing, and significant. . . . History in Davis's hands is loud, coarse, painful, funny, irreverent—and memorable."—San Francisco ChronicleHere, celebrating the twentieth anniversary of its debut as a New York ...
Millions of Americans, bored by dull textbooks, are in the dark about the most significant event in our history. Now New York Times bestselling author Kenneth C. Davis comes to the rescue, deftly sorting out the players, the politics, and the key eve...
Kenneth C. Davis presents a collection of extraordinary stories, each detailing an overlooked episode that shaped the nation's destiny and character. Davis's dramatic narratives set the record straight, busting myths and bringing to light...