For years, Virgil Cole and Everett Hitch have ridden roughshod over rabble-rousers and gun hands in troubled towns like Appaloosa, Resolution, and Brimstone.  Now, newly appointed as Territorial Marshalls, they find themselves traveling by train...
Law enforcement in Appaloosa had once been Virgil Cole and me. Now there was a chief of police and twelve policemen. Our third day back in town, the chief invited us to the office for a talk. The new chief is Amos Callico, a tall, fat man in a d...
When we last saw Everett Hitch and Virgil Cole, they had just restored peace to the rough-and-tumble town of Resolution. Virgil, however, has only one thing on his mind these days: Allie French, the woman who stole his heart in Appaloosa. Even though...
The New York Times—bestselling author's richly imagined work of historical fiction: a powerful tale of the Old West from the acknowledged master of crime fiction.I had an eight-gauge shotgun that I'd taken with me when I left Wells ...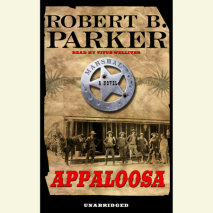 A richly imagined novel of the Old West, as spare and vivid as a high plains sunset, from one of the world's most talented performers. It was a long time ago, now, and there were many gunfights to follow, but I remember as well as I remember anything...