George Henry Alexander is a huge fan of baseball. His favorite team is the New York Yankees and his favorite player is Babe Ruth. George plays baseball during his free time and he listens to the games on the radio with his dad. Everywhere he goes, he...
Sam-I-Am mounts a determined campaign to convince another Seuss character to eat a plate of green eggs and ham.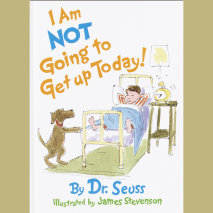 I'm Not Going to Get Up Today read by Jason Alexander
Arguably the most entertaining alphabet book ever written, this classic Beginner Book by Dr. Seuss is perfect for children learning their ABCs. Featuring a fantastic cast of zany characters—from Aunt Annie's alligator to the Zizzer-Za...
9 complete stories at a great price!Featuring:Green Eggs and Ham read by Jason AlexanderOne Fish Two Fish Red Fish Blue Fish read by David Hyde PierceOh, the Thinks You Can Think! read by Michael McKeanI'm Not Going to Get Up Today read by Jason Alex...