What Pet Should I Get?This new book by Dr. Seuss about making up one's mind is the literary equivalent of buried treasure! What happens when a brother and sister visit a pet store to pick a pet? Naturally, they can't choose just one! The ...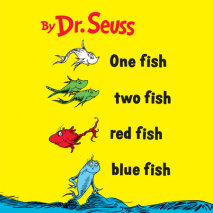 Children will listen along swimmingly to Dr. Seuss's absurd and endearing fish.
A collection of tongue twisters that will amuse little ones.
Loved by generations, this "simplest Seuss for youngest use" is a Beginner Book classic. See Red and Ned and Ted and Ed in a bed. And giggle as Pat sits on a hat and on a cat and on a bat . . . but a cactus? Pat must NOT sit on that! This...