What Pet Should I Get?This new book by Dr. Seuss about making up one's mind is the literary equivalent of buried treasure! What happens when a brother and sister visit a pet store to pick a pet? Naturally, they can't choose just one! The ...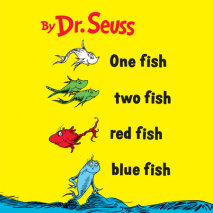 Children will listen along swimmingly to Dr. Seuss's absurd and endearing fish.
A collection of tongue twisters that will amuse little ones.
Loved by generations, this "simplest Seuss for youngest use" is a Beginner Book classic. See Red and Ned and Ted and Ed in a bed. And giggle as Pat sits on a hat and on a cat and on a bat . . . but a cactus? Pat must NOT sit on that! This...
9 complete stories at a great price!Featuring:Green Eggs and Ham read by Jason AlexanderOne Fish Two Fish Red Fish Blue Fish read by David Hyde PierceOh, the Thinks You Can Think! read by Michael McKeanI'm Not Going to Get Up Today read by Jason Alex...