NEW YORK TIMES BESTSELLER • Discover the steps to earning your path to fulfillment and living without regrets—from the world-renowned executive coach and New York Times bestselling author of Triggers and What Got You Here Won't Get You The...
Do people see you as the kind of leader you want to be? Are your strongest leadership qualities getting in the way of your greatness?After decades of advising and inspiring some of the most eminent chief executives in the world, Lolly Daskal has unco...
In business, the right behaviours matter. But getting it right is tricky. Even when we acknowledge the need to change what we do and how we do it, life has a habit of getting in the way, upsetting even the best-laid plans. And just how do we manage t...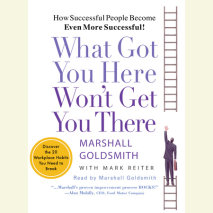 What's holding you back? Your hard work is paying off. You are doing well in your field. But there is something standing between you and the next level of achievement. Perhaps one small flaw–a behavior you barely even recognize–is t...