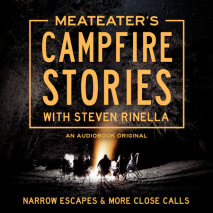 More harrowing firsthand tales of survival from the creators of the New York Times bestselling audio collection, MeatEater's Campfire Stories: Close Calls. Featuring stories from Steven Rinella, MeatEater's Clay Newcomb and Kevin Gillespie, spearfis...
NEW YORK TIMES BESTSELLER • The "imperative call to action" (Nick Offerman) for parenting tough, curious, and competent kids who feel at home in the outdoors, from the New York Times bestselling author and host of the TV series ...
Gather around for campfire stories with the MeatEater crew as they share sixteen harrowing true tales of survival, grit, and misfortune in the great outdoors—an immersive audio experience from the host of the long-...
From the host of the Travel Channel's "The Wild Within."A hunt for the American buffalo—an adventurous, fascinating examination of an animal that has haunted the American imagination. In 2005, Steven Rinella won a lottery...