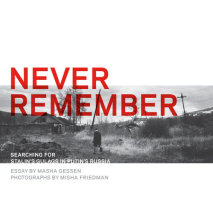 "A book that belongs on the shelf alongside The Gulag Archipelago. -- Kirkus Reviews

"A short, haunting and beautifully written book." -- The Wall Street Journal

The Gulag was a monstrous network of labor camps that held and killed millions of prisoners from the 1930s to the 1950s.
WINNER OF THE 2017 NATIONAL BOOK AWARD IN NONFICTION

FINALIST FOR THE NATIONAL BOOK CRITICS CIRCLE AWARDS

WINNER OF THE NEW YORK PUBLIC LIBRARY'S HELEN BERNSTEIN BOOK AWARD

NAMED A BEST BOOK OF 2017 BY THE NEW YORK TIMES BOOK REVIEW, LOS ANGELES TIMES, WASHINGTON POST, BOSTON GLOBE, SEATTLE TIMES, CHRISTIAN SCIENCE MONITOR, NEWSWEEK, PASTE, and POP SUGAR

The essential journalist and bestselling biographer of Vladimir Putin reveals how, in the space of a generation, Russia surrendered to a more virulent and invincible new strain of autocracy.