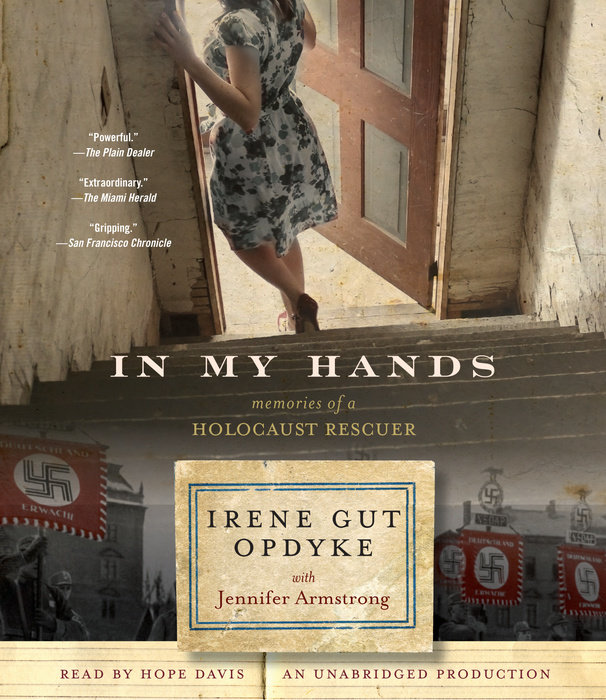 In My Hands: Memories of a Holocaust Rescuer
ABOUT THIS BOOK
The compelling memoir of Irene Gut Opdyke, a Polish girl who risked her life to save her Jewish friends during World War II.
Irene Gut Opdyke was just seventeen in 1939 when the Germans and the Russians divided and devoured her native Poland. In an instant, her life was transformed -- flight/capture, escape, and hiding became her new way of life. This young woman -- just a girl, really -- saw the evil surrounding her and chose to defy it. What began as smuggling food to the Jews in the neighboring ghetto turned into much more. Irene Gut had the strength and courage to overcome tremendous obstacles and managed to hide twelve Jews in the basement of a Nazi major's home. They all survived, along with a baby boy who was born to one of the women in hiding.
Author Jennifer Armstrong interviewed Irene Gut Opdyke and painstakingly recorded her memories to give you this incredible story of a Holocaust rescuer. In My Hands is the inspiring story of how a young girl proved that the actions of one good person can make a difference.
ABOUT THIS AUTHOR
Irene Gut Opdyke's remarkable story of courage and faith as a Holocaust rescuer began in a small village in eastern Poland where she was raised. She was born on May 5, 1922 to Maria and Wladyslaw Gut, who brought up Irene and her four younger sisters as Polish Catholics in a nurturing family environment.
Irene was a bright, outgoing girl, full of promise. Her strong desire to help people in need inspired her to enroll in nursing school in the Polish city of Radom. But in September 1939, when Irene was just 17 years old, the German army invaded the city, and Irene immediately volunteered to join a Polish army unit to help in their fight. Unable to overcome the German forces, Irene's regiment went into hiding in the Ukrainian forest, where Irene was subsequently captured, brutally beaten, and raped by Russian soldiers.
Two years after she fled Radom, Irene finally returned and was joyfully reunited with her family. Irene's struggles, however, were far from over. The family was separated once again and Irene remained in Radom with one of her younger sisters. She was forced to work first in an ammunition factory for the German army, and then she was moved to the city of Ternopol, where she worked as a waitress in a Nazi officers' dining room. Irene witnessed a Nazi death march and many other acts of violence against the Jews, and it was her outrage at these acts that prompted her to fight back against the senseless death and destruction that surrounded her.
From a small first step--passing food under the fence of the Jewish ghetto--she became, in her words, "a resistance fighter, a smuggler of Jews, a defier of the SS and Nazis." She picked up snatches of conversation in the dining room and passed what she learned to Jews in the ghetto. She raided the German warehouse for food and blankets. She smuggled people from work camp into hiding in the forest. Most perilous of all, Irene hid twelve Jews in the home of a German officer for whom she worked. When the German major discovered their existence, he demanded that Irene become his mistress as payment for keeping her secret. "It was not easy," Opdyke says, "but it was a small price to pay for so many lives."
By 1944, the German army was suffering defeat and beginning to withdraw. Thinking of her friends in hiding first, Irene smuggled them to the forest where they would be safe from the retreating German soldiers. As for Irene, she escaped from the German major and joined a group of partisan freedom fighters dedicated to opposing fighting both the German and Soviet enemies of Poland. Irene was captured by the Soviet military police and interrogated endlessly, yet miraculously escaped through an open window. At this point, Irene was taken in and hidden from the Russians by some of the very people she had hidden from the Nazis.
Eventually, these friends would disguise her as a Jew and help smuggle her to a camp for displaced persons in Hessich-Lictenau, Germany. There, Irene met William Opdyke, a United Nations delegate sent to interview survivors of the war. Deeply moved by Irene's story, Opdyke told her that America would be proud to have her as a citizen. And so in 1949, Irene traveled to New York to begin a new life in America. She was employed in a garment factory and lived in Brooklyn. Five years after her arrival in America, Irene Gut Opdyke became a United States citizen.
By chance, she bumped into William Opdyke in a coffee shop near the United Nations, and they were married just a few months later. She and William had a daughter, Janina, and lived in southern California, far away from the war grounds of Europe.
Irene tried to put the past behind her and didn't speak about her involvement in the war until she heard neo-Nazi groups call the Holocaust a hoax. Then she knew she must speak out and share her story.
Irene Gut Opdyke has been recognized for her courageous actions by Yad Vashen, Israel's Holocaust memorial, which honored her as one of the Righteous Among the Nations. She has received commendations and awards from numerous Jewish organizations from across the country. In addition, several cities have granted her honorary citizenship in tribute to her actions, and she holds an honorary degree from Haverford College.
Irene Gut Opdyke continues to live in southern California. She frequently speaks to groups of people, especially teenagers, about her experiences during the war. It is her hope that her story will empower listeners with the knowledge that we can and must choose to do good because the actions of one good person can make an extraordinary difference in the lives of others.
TEACHING IDEAS
World War II robbed Irene Gut Opdyke of her adolescence and challenged her courage and faith. In this compelling memoir, Opdyke tells of her struggle to protect her Jewish friends in Nazi-occupied Poland. She shares her fear for her family's safety and the dread that her native homeland, with its rich cultural heritage, might never be restored.
Courage, survival, patriotism, dealing with prejudices, and a strong sense of family are important themes to be explored in this memoir. World history classes will find this book a perfect companion to the study of World War II. In addition to the social studies curriculum, this guide provides activities for using the book in language arts, health, art, and music.
Pre-Reading Activity
Ask students to define Holocaust. Send them to the library to find out what factors contributed to the Holocaust. Explain to the students that a memoir is a first-hand account of an individual's life. Ask them to discuss why reading a memoir of a Holocaust rescuer is more meaningful than learning the facts from a textbook. Then have them discuss why studying the Holocaust is so important. Students may also be encouraged to visit the Web site of the United States Holocaust Memorial Museum (see below in Internet Resources).
Thematic Connections Family (Family and Relationships)
Ask students to cite evidence in the book that the Gut family is close-knit. What does Irene mean when she says, "We had lost precious time as a family?" (p. 80) In helping her friends, Irene is separated from her family. When does Irene appear to miss her family the most? Engage the class in a discussion about the meaning of family. Have them discuss how the people that Irene helped became her family. In 1982, Irene made a trip to Israel and finally met Roman Haller. Why might Irene consider Roman a part of her family?
Prejudice
Irene says, "In my home, there had never been any distinction made between people based on their religion." (p. 19) Many of the Polish people remained silent when the Russians and Germans took over Poland. They felt that the Jews were responsible for their own problems. Ask students to discuss how prejudices might be developed out of fear. How does fighting prejudices take courage?
Courage
When Irene was a baby, the family priest told her mother, "God has plans for your daughter, Pani Gutowna. We must watch to see what little Irenka does." (p. 8) How do the words of the priest foreshadow Irene's courage and sense of purpose? How do Irene's Jewish friends gain courage from her? By age twenty-one, Irene had been "a resistance fighter, a smuggler of Jews, a defier of the SS and the Nazis." Irene knew that she was in danger. What does she mean when she says, "I might as well be hanged for a sheep as for a lamb?" (p. 140) How is this statement indicative of her courage?
Patriotism
The Gut family is described as being "fiercely patriotic." (p. 13) What is patriotism? In 1938, Irene began training as a nurse. When she went home for the summer, she found that many of her neighbors had renounced their Polish heritage. Some spoke only German now, and many admired the policies of Hitler. In what ways does Irene feel that her homeland has been betrayed? How does Irene maintain her patriotism throughout the war?
Survival
Irene endures many harrowing moments. She is faced with threats of torture and prison in Siberia. She is raped by a Russian soldier, ordered off a train a gunpoint, and separated for years from her family. Engage the class in a discussion of the emotional and mental strength that it takes to survive such suffering. Irene knows that the fate of her Jewish friends is in her hands. Ask students to discuss what they thing Irene risks and sacrifices the most in helping her friends survive.
Propaganda
Ask students to define propaganda. How does Hitler use propaganda to entice the German and Polish youth to join the Nazis regime? Why is it difficult to identify propaganda? How is propaganda related to distrust? How does propaganda affect the Resistance? Engage the class in a discussion about how propaganda is used to sway opinions in our current society. How do the political parties in the United States use propaganda to gain support for their candidates? Why is propaganda more easily delivered today? Ask students to watch advertisements on television for a week. Then, have them share which advertisements they believe are propaganda. How can you tell the difference between propaganda and truth?
Interdisciplinary Connections Language Arts
The author uses figurative language throughout the book to create images and to convey certain thoughts. For example: "I felt like a bad mother who had taken her children to the forest and left them there." (p. 143) Ask students to find other examples of similes and metaphors in the book.
"In 1982, Israel's Yad Vashem holocaust memorial recognized Irene for her heroism and honored her as one of the Righteous Among the Nations." (p. 276) Ask each student to act as a family member of a Holocaust survivor and write a letter of tribute to Irene Gut Opdyke.
Social Studies
Display a map of Europe. Using pins, mark each town in which Irene lived and worked. How did World War II change the boundaries of Poland? Ask students when the communist regime ended in Poland.
Throughout the book there are references to the ancient folk customs of Poland. Ask students to identify some of those ancient customs that are still a part of Poland's culture today (e.g., May Boats, p. 6).
Irene was a volunteer for the Red Cross. Have students find out when the Red Cross was founded. How is it funded? What services did the Red Cross perform during World War II? The Korean War? The Vietnam War? What is the role of the Red Cross in time of peace?
Health
The people of Poland suffered many diseases during wartime; poor people and Jews in the ghettos were especially vulnerable. Ask students to identify the other health-related problems that the war victims suffered (e.g., typhoid, malnutrition, frostbite, etc.) Send students to the library media center to research the treatment of such health problems. Have students investigate the health issues that U.S. soldiers and the Vietnam refugees faced during the Vietnam War. Ask students to compare and contrast how the health issues of both wars were directly related to climate and poor living conditions.
Music
Music played a special role in the Gut family. They often consoled themselves by gathering around the piano and singing Polish folk songs. They also enjoyed the works of Chopin, a Polish composer. Play his music for the students. Ask them to discuss why Chopin's music brought comfort to the family.
Art
Propaganda is most often considered a negative way of communicating. Tell students that propaganda can also represent good. Ask students to collect political cartoons for a week and discuss how these cartoons might be considered propaganda. Then, have them select a social issue that evokes volatile reactions from the public. Draw a cartoon that represents one side of the issue.
Have students design a promotional poster for In My Hands. Then have them select a passage from the book that best represents the title, and quote that passage, with its page reference, on the back of the poster.
Teaching ideas prepared by Pat Scales, Director of Library Media Services, the South Carolina Governor's School for the Arts and Humanities, Greenville, South Carolina.
VOCABULARY
There are many words in the book that will challenge students. Ask them to locate unfamiliar words and try to define them from the context of the story. Such words may include Basilica (p. 11), carnage (p. 23), parapets (p. 26), pandemonium (p. 31), subversive (p. 50), commissariat (p. 63), metronome (p. 87), conscripts (p. 87), sacristy (p. 89), malevolence (p. 97), petulantly (p. 151), lascivious (p. 157), and farcical (p. 186).
REVIEWS
* "Irene Gut was a 17-year-old nurse in training, a good Catholic girl, when the war began. At great risk, she hid 12 Jews in the basement of a Nazi major's home. . . . Opdyke's remarkable story, simply told, . . . will inform and inspire readers" --Starred, School Library Journal
* "[In My Hands] is special not only because of its unique perspective but also because it speaks so personally to teenagers." --Starred, Booklist
* "Readers will be riveted and . . . inspired by Opdyke's courage." --Starred/Boxed, Publishers Weekly
"The power of Irene's true story keeps the reader spellbound." --The Horn Book
FURTHER READING
The Last Mission by Harry Mazer[0-440-94797-9]
Lily's Crossing by Patricia Reilly Giff[0-385-32142-2]
Rosie the Riveter: Women Working on the Homefront in World War II by Penny Colman[0-517-88567-0]
Tunes For Bears to Dance To by Robert Cormier[0-440-21903-5]
Wish Me Luck by James Heneghan[0-440-22764-X]
ADDITIONAL RESOURCES
http://www.ushmm.org/
http://www.holocaust-history.org/
http://www.wiesenthal.com/