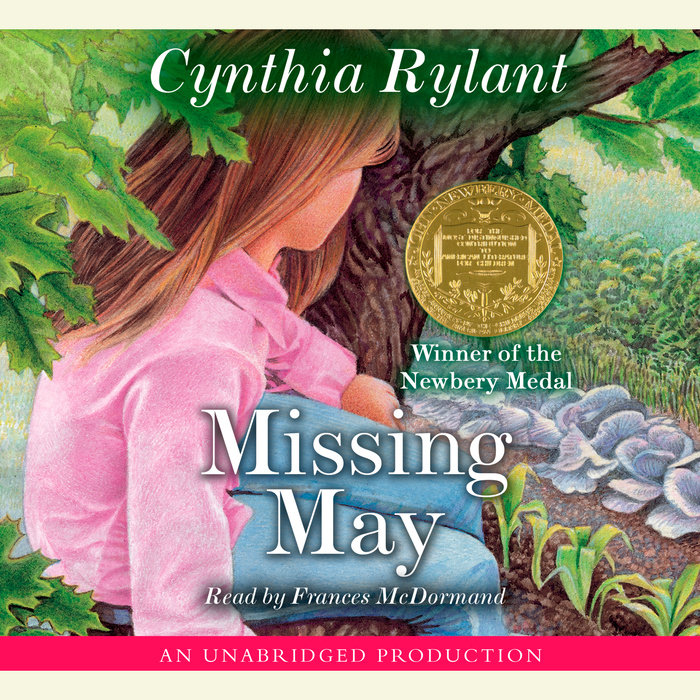 Missing May
ABOUT THIS BOOK
When Aunt May dies, 12-year-old Summer and her Uncle Ob are paralyzed with grief and must find the strength to go on living.
For six years, Summer has been passed among her relatives in Ohio until Aunt May and Uncle Ob, who have come for a visit, decide to take her to their home in West Virginia. The small, rusty trailer where May and Ob make their home is quickly turned into a place "just meant for a child," and Summer finally has the family she has always wanted. When Summer is 12-years-old, however, May dies, leaving her and Ob helpless with grief. One day, Ob feels May's spirit and wants to contact her. Summer and Ob, along with Cletus Underwood, a strange boy who lives nearby, set out on a journey to find the Reverend Miriam B. Young, a spiritualist who can help them get in touch with May. Though they never locate Reverend Young, something along the way helps them gain the strength to go on living, but never doubting that they will always miss May.
TEACHING IDEASIn the Classroom
This poignant novel, set in the heart of Appalachia, is told with heartfelt passion and humor. For this reason, it is an excellent choice for a novel study or for read-aloud. The strong emotions expressed in the book help students connect with the themes of love, friendship, dealing with grief, and loneliness. In addition to discussion questions related to the themes of the novel, this guide offers activities that link the book with the language arts, social studies, science, art, and drama curriculum.
Pre-Reading Activity
Invite a psychologist, a minister, or a grief counselor to speak to the class about the stages of grief. Outline these stages on a chart so that students may refer to them as they read the novel. Ask them to make notes as they notice the various stages of grief that Summer and Ob experience.
Thematic Connections
Love
Summer says that May was "a big barrel of nothing but love." (p. 15) Ask students to describe May and Ob's love for one another. Summer was passed among relatives until May and Ob decided to take her home with them. Discuss how May and Ob needed Summer as much as she needed them. Describe Ob and Summer's relationship after May dies. How does the reader know that Ob will continue to give Summer the love she needs?

Friendship
Summer is annoyed by Cletus when she first meets him. Ask students to discuss why she doesn't like Cletus. Good friends must learn to be honest with one another. What does Cletus mean when he tells Summer, "Drop some of them bricks you keep hauling around with you. Life just ain't that heavy." (p. 23) At what point in the novel does Summer change her mind about Cletus?
Grief
Ask the class to discuss what Summer means when she says, "People wanted us to grieve proper." (p. 36) How does Summer's concern for Ob keep her from admitting her own grief? Summer says that Cletus is the "perfect consoler." (p. 36) What does Cletus do to console Ob and Summer? Ob is heartbroken when they don't find the Reverend Young. How does the trip help Summer and Ob admit their grief and begin their journey toward overcoming their sadness? Discuss with students the symbolism of the owl on page 83. How does placing the whirligigs in May's garden set Summer and Ob free?
Loneliness
Summer and Ob are lonely after May dies, and Summer fears that Ob might die of a broken heart. What is Cletus's role in helping Summer and Ob deal with their loneliness? Summer says, "It's worse needing someone in the dark, in winter, of an early cold morning." (p. 11) How is loneliness related to darkness? Ask the class to make suggestions of ways a person can deal with loneliness.
Interdisciplinary Connections
Language Arts
Cletus collects pictures of "anything with a story to it." (p. 18) He thinks Summer should write stories about the pictures because she is a good writer. Ask students to bring in pictures from magazines, brochures, newspapers, etc. Display the pictures and instruct students to select a picture and write a story about it. Encourage students to share their stories in class.
Have students read Belle Prater's Boy by Ruth White. Ask them to compare and contrast the way Summer deals with May's death to the way Gypsy deals with her father's death. How are Cletus and Woodrow similar?
Social Studies
Uncle Ob takes Summer and Cletus to the West Virginia Science and Culture Center where they discover a gift shop that sells items made by West Virginians. Ask students to use the Internet and library resources to find out the type of products that one would expect to see in this gift shop. Have students design a gift shop catalog that features these handmade items and encourage them to determine each item's price.
Science
Ask students to explain what Summer means when she calls May's garden "reliable." Have students list the types of vegetables that May might have grown. Find out when the vegetables should be planted and harvested. Then, have students plan a flower garden that Summer might plant in memory of May. Instruct them to make a chart that indicates the care of the plants and when they should bloom.
Art
Summer sees Uncle Ob's whirligigs as works of art. What does Summer mean when she describes them as "The Mysteries"? Ask students to design and construct a whirligig that would best represent Summer at the end of the novel. Encourage them to share the symbolism of the whirligig design.
Music
Though there is no mention of music in the novel, the Appalachian people are known to find joy and solace in music. Ask students to find appropriate music for Summer to play at the end of the novel when she and Ob are placing the whirligigs in May's garden.
Geography
Summer and Ob live in the heart of Appalachia. Using the Internet and library resources, have students track the vastness of the Appalachian Mountain Region, as it runs from Northern Georgia through the Carolinas, the Virginias, Kentucky, Tennessee, and Pennsylvania. Ask students to choose two of the Appalachian regions to compare and contrast the climate, people, population, and topography.
Teaching ideas prepared by Pat Scales, Director of Library Services, the South Carolina Governor's School for the Arts and Humanities, Greenville, South Carolina
.
VOCABULARYVocabulary/Use of Language
Ask students to write down unfamiliar words in the novel and try to define them by taking clues from the context of the story. Such words may include: revelation (p. 12), enthralled (p. 22), fathom (p. 28), bereavement (p. 29), psychic (p. 31), denouncement (p. 42), serene (p. 64), imbecile (p. 71), and oblivion (p. 87).
AWARDS
An ALA Best Book for Young Adults
An ALA Notable Children's Book
Newbery Medal Book Winner
Winner of the Boston Globe-Horn Book Honor Book
A School Library Journal Best Book of the Year
REVIEWS
"We're in these people too deep to put the story down. We just can't make ourselves leave them." --Starred, Booklist
"Rylant's tightly woven plot wastes no words. . . . a tribute to a fine writer who brings to the task a natural grace of language, an earthly sense of humor, and a well-grounded sense of the spiritual." --Starred, School Library Journal
"A beautifully written, life-affirming book." --Kirkus Reviews
FURTHER READING
Belle Prater's Boy by Ruth White[0-440-41372-9]
Journey by Patricia MacLachlan[0-440-40809-1]
Whirligig by Paul Fleischman[0-440-22835-2]
ADDITIONAL RESOURCES
http://www.sci.mus.mn.us/
http://www.whirligigs.net/
http://www.les.appstate.edu/courses/appalachia