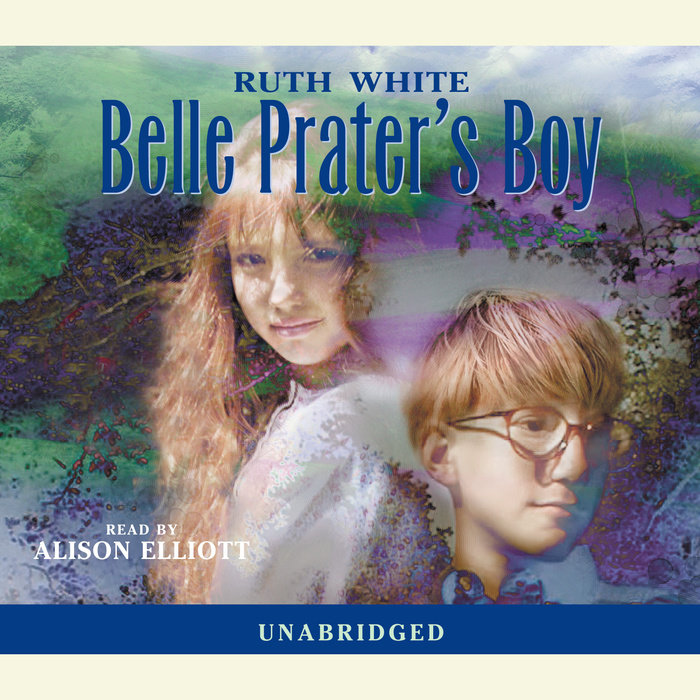 Belle Prater's Boy
ABOUT THIS BOOKIn this vivid coming-of-age story, two cousins develop a real friendship while discovering the truths about their families and themselves.


Twelve-year-old Gypsy Arbutus Leemaster develops an immediate friendship with her cousin, Woodrow Prater, when he moves next door with Granny and Grandpa Ball after his mother disappears. The two unlikely friends embark on a journey of self-discovery that will intrigue all young readers.
Ruth White has skillfully combined the elements of mystery and humor to create a story that will appeal to even the most reluctant reader. The resonance of the mountain dialect creates a natural harmony between character and setting, making this award-winning novel an ideal choice for reading aloud or a class novel study.
ABOUT THIS AUTHORRuth White talks about Belle Prater's Boy


What inspired you to write Belle Prater's Boy
?


I think it started with the idea of writing a story set in the small town of my childhood that was
not
about children of poverty. My other two novels did involve hard-luck stories of growing up poor and backward, and although the two main characters--Ginny and Tiny--triumphed over their difficulties, it occurred to me that there were other stories of triumph over other kinds of difficulties, such as loss of a parent. So Gypsy and Woodrow began to take shape in my mind. I set them down in my favorite setting and let them take me into their lives. I find myself working in this way more and more. By that I mean I let the characters tell their stories to me.
Gypsy's and Woodrow's lives are very different. Why do you think Gypsy and Woodrow become immediate friends?


Because they have so much in common. Not only did they both lose a parent, but they are first cousins who have no siblings, and that in itself would draw them together. They have similar qualities of character--gentleness, natural intelligence and wit, courage and loyalty. My very best friend from childhood, Roberta Smith, and I used to have this poem we shared with each other:
What made us friends in the long ago
When first we met?
Well, I think I know
The best in me and the best in you
Hailed each other because they knew
That always and always since time began
Our being friends was part of God's plan.


And I think that is how it was with Gypsy and Woodrow--the best in each hailed the best in the other.
Family is important in the novel and to most people in Appalachia. Did you begin the novel with the idea of family or did it evolve from the characters? How would you explain Belle Prater moving away from her family and strong family ties?


Yes, family is important in this book. After the poverty in my
Sweet Creek Holler
and the dysfunctional family in
Willow
, I absolutely fell in love with Gypsy's and Woodrow's family. They grew on me so that I felt they were
my
family. So, the answer is yes, they did evolve from the characters. I think I felt a little longing for that closeness, which I never really had in my family, and perhaps that longing of mine is what made the family more lovable.
Belle Prater was in an intolerable and desperate situation when she left her parents' home to marry Everett Prater. But it was like jumping out of the frying pan into the fire. After 13 or 14 years on Crooked Ridge, she found herself in the same kind of intolerable situation. So she was always running away, wasn't she?
Appearances are involved in almost all the conflicts in the novel. Can you tell us about Love and how fanatical she is about Gypsy's appearance?

Y
es, appearances are involved in almost every aspect of the novel--the characters, their homes, social status, and on and on. It 's because we are so quick to judge others by these outward trappings. Although Love Ball Dotson is good at heart, she is trapped in this game of appearances, but she doesn't realize it. So was her husband, who killed himself because he couldn't tolerate his disfigurement. And that is why Love is fanatical about Gypsy's hair--because she promised her husband she would never cut it.
Gypsy's appearance was a symbol to both Love and Amos of their perfect union. Perhaps Love begins to see a little more clearly when Gypsy cuts off her hair, declaring in her own way that she will not be their pretty baby anymore, that she has to be herself.
Are Woodrow's character and his storytelling abilities based on anyone you know?


No, Woodrow was not based on anyone in particular. He is a compilation of a few terrific kids I have known.
For those of us who have never been to a hollow, or "holler," can you describe it?


A hollow is simply the deep space between two mountains. There is usually a creek running through it and a road parallel to the creek, and that's where the mountain people chose to build their houses--by the road and the creek. In early days there was probably just a path leading up in the hollow, and it gradually grew wider with use.
TEACHING IDEASIn the Classroom

Booktalk


Use the following booktalk to introduce
Belle Prater's Boy
to your students. Explore thematic connections such as family relationships, abandonment, appearances, and friendship as part of your curriculum.

Belle Prater has disappeared without a trace. There is no evidence of foul play, and no indication that she might have run off with someone else. She simply vanished off the face of the earth!
Belle's sudden disappearance is a mystery to the folks of Coal Station, Virginia, so they make up stories and spread gossip about her whereabouts. But Belle's only child, Woodrow, is remarkably cool about his mother's disappearance. He comes from Crooked Ridge, the isolated "holler" where he lived with his parents, to stay with his Granny and Grandpa Ball. Cross-eyed, gawky, and extremely backward, Woodrow uses his storytelling ability to win the hearts of his new classmates. His presence makes school more interesting and life more fun, especially for his first cousin and next-door neighbor, Gypsy Leemaster.
Gypsy's life is quite the opposite of Woodrow's. Her days are consumed with piano lessons, personal grooming, and instruction in party etiquette. Intrigued with her cousin, she longs to know the truth about her Aunt Belle. When Woodrow reveals that he has been keeping a secret about his mother, Gypsy learns something very important about herself. What is Woodrow's secret? How does his secret make a difference in Gypsy's life?
Pre-Reading Activities


Display books about Appalachia. Select descriptive passages from each of the books and read them aloud to the class. Play a recording of "Appalachian Spring" by Aaron Copland. Ask students to discuss how the music relates to the descriptive passages read. Encourage students to write about the images that they see while listening to the music.
Ask students what they think it was like to live in the 1950s. Have them interview a friend or relative who was alive during that time. Some questions students might ask in the interview are: How did people dress? What did people do for entertainment? What type of music was popular? Who were the presidents? What were the big news stories? Which people were in the news? Have students report their findings to the class.
Thematic Connections

Friendship
-- Have students compare and contrast Gypsy's and Woodrow's lives. Ask them to discuss why Gypsy and Woodrow enjoy each other's company so much. Trace the development of their friendship from the beginning of the novel to the end. Which character gains the most from the friendship? How is Woodrow received at school? What makes him so popular among the other students?
Family and Relationships
-- Family is extremely important to most people in Appalachia. What evidence is there that the Ball family is close? Describe Woodrow's relationship with his father. How is Grandpa Ball more of a father figure to Woodrow than his real father? What are Gypsy's feelings toward her stepfather Porter? What keeps her from allowing Porter to be a father to her? Describe Gypsy's mother, Love, and her sister Belle's relationship as children. How did their teenage years affect their relationship as adults? How is their relationship connected to Belle's disappearance?
Abandonment
-- How do Granny and Grandpa Ball deal with Belle's abandonment of them to live a "hillbilly" life? Why does she refuse to see them when they come to visit? Gypsy feels abandoned when her father dies; Woodrow suffers from his mother's disappearance. How are Gypsy's feelings different from Woodrow's? Describe the healing process that Gypsy and Woodrow go through. How do they help each other come to terms with their losses?
Appearances
-- Appearances are involved in almost every conflict within the novel. Discuss how Belle Prater's and Amos Leemaster's lives could have been different if they hadn't placed so much importance on appearances. Love is fanatical about her daughter Gypsy's appearance. How does so much emphasis on appearance keep Gypsy from discovering her true self? Grandpa tells Gypsy: "It's what's in the heart that counts" (p. 114). How does this message influence Gypsy's growth as a character? What does Woodrow teach Gypsy about appearances? How does Blind Benny see beyond appearances?
Interdisciplinary Connections

Language Arts
-- Porter Dotson is editor of
The Mountain Echo,
the newspaper in Coal Station, Virginia. Ask students to pretend that they are reporters for Porter's newspaper. Instruct them to write a news story about Belle Prater's disappearance. They should include interviews with Woodrow, Everett Prater, Love Ball Dotson, and Granny and Grandpa Ball.
Science
-- Ruth White vividly describes the mountains surrounding Coal Station, Virginia. Ask students to make a list of the many flowers, plants, and trees that are mentioned in the book. Have them make an illustrated guide (in booklet format) to the flora of this area of the Appalachian Mountains.
Woodrow tells Mrs. Hart's science class an easy way to remember the difference between
stalagmites
and
stalactites
. Ask students to find out how these formations evolve. Have them research the most well-known caves in the United States. Explain
spelunking
as a hobby and a profession. What training should one have before becoming a
spelunker
? Describe the equipment that a
spelunker
uses.
Science/Health
-- Gypsy contracts measles. Have students research the different types of measles. What causes the disease? How is it spread? What is the treatment? When was the measles vaccine developed? Why must Gypsy stay in a darkened room?
Science/Social Studies
-- Coal Station is a mining town. Ask students to research how coal is mined. Ask them to find out about coal mine safety, the health hazards involved, and the present-day federal government regulations regarding mining. What other states mine coal?
Social Studies
-- Have students find out the functions of the following agencies: Tennessee Valley Authority, Southern Mountain Authority, and the Appalachian Regional Commission. How have these agencies helped the people of Appalachia?
Belle Prater's Boy
is set during the 1950s. Students may enjoy making a time line of events of this decade. They can include songs, movies, dress, political events, sports events, etc.
Cultural Connections


The Appalachian people are noted for their interest in such pastimes as storytelling, sewing, music, and cooking. Below are suggested activities to help acquaint students with Appalachian culture.
Storytelling
-- Some Appalachian stories are passed down through generations, and others are created for recent events. Woodrow is a natural-born storyteller. Ask each student to select one story that Woodrow tells and embellish it using their own imagination and the Appalachian dialect, if they choose.
Sewing
-- Quilting is a finely developed art. Ask students to research various quilt patterns. Have them use construction paper to create examples of the patterns, labeling each one. Encourage students to think about the math skills necessary to design a quilt.
Music
-- Many Appalachians use homemade instruments and write their own songs. The hill folks write a song about Belle Prater. Divide the class into groups and ask each group to research one of the following types of music: country and western, the blues, or the ballad. Ask each group to write an original song about Belle, Woodrow, or Gypsy in the style of music that they researched.
Cooking
-- Apples, blackberries, and raspberries grow in the area around Coal Station. Make a class cookbook of recipes using these fruits, or foods indigenous to students' own area. Students may illustrate each page, design a cover, and think of a creative title for the book.
VOCABULARY
Discuss the Appalachian dialect with the class and have them list examples from the book. Examples may include:
lookit
(p. 24),
'tater cakes
(p. 24), and
figger
(p. 141). Ask them to translate the dialect into standard English. How does using standard English change the flavor of the book?
Other words that students may want to investigate include:
holler
(p. 3),
admonitions
(p. 12),
mesmerized
(p. 40),
inevitable
(p. 88),
flabbergasted
(p. 92),
retaliation
(p. 129), and
remorse
(p. 137). Ask them to determine the meaning of each word using the context of the story.
AWARDS
A 1997 Newbery Honor Book
An ALA Best Book for Young Adults
An ALA Notable Children's Book
A
Boston Globe-Horn Book
Best Book of the Year
A
Publishers Weekly
Best Book of the Year
A
School Library Journal
Best Book of the Year
An IRA Teachers' Choice
An IRA Notable Book for a Global Society
An NCSS-CBC Notable Children's Trade Book in the Field of Social Studies
New York Public Library 100 Titles for Reading and Sharing
A New York Public Library Book for the Teen Age
An NCTE Notable Children's Trade Book for the Language Arts
Pennsylvania School Librarians Association's Best of the Best Fiction
Parenting
Magazine Reading Magic Award
State Award Nominations

California Young Reader Medal Master List 1998-1999
Illinois Rebecca Caudill Young Readers' Book Award Master List 1998-1999
Maine Student Book Award Master List 1997-1998
Missouri Mark Twain Book Award Master List 1998-1999
Nebraska Golden Sower Young Adult Book Award Master List 1998-1999
Oklahoma Sequoyah Children's Book Award Master List 1998-1999
Oklahoma Sequoyah Young Adult Book Award Master List 1998-1999
Pacific Northwest Young Readers Choice Award Master List 1998-1999
Vermont Dorothy Canfield Fisher Children's Book Award Master List 1997-1998
REVIEWS
* "White paints a vivid picture of small-town Appalachia in the 1950s. . . .Characterization is superb. . . . White's message--that there is no protection for any of us from pain, only a variety of ways to handle it--is delivered with just right dollops of humor and love. . . . A delightful read by a real truth teller."--Starred,
School Library Journal


* "Pitching her narrative in a genial, mountain-folks twang, White creates vivacious, memorable characters whose openheartedness should not be mistaken for naiveté. She gives her protagonists the courage to face tragedy and transcend it--and the ability to pass that gift along to the reader."--Starred,
Publishers Weekly


"Ruth White creates a satisfying feeling of community. . . . An admirable, stirring book."--
The New York Times Book Review


"White's characters are strong--and her storytelling is rich in detail and emotion."--
The Horn Book Magazine


"Both central and secondary characters are vividly realized in a plot that draws on family dynamics for its tension and energy. . . . White knows her setting well enough to poke fun without sacrificing her affection for the small-town atmosphere."--Recommended,
The Bulletin


Educators Praise Belle Prater's Boy


"Teachers will love sharing this book with students through reading aloud and will find plenty of opportunity to use the book across the curriculum. Here is a funny, smart book which is sure to leave a lasting impression on readers of all ages."--Teri Lesesne, Sam Houston State University, Huntsville, TX
"Ruth White has created a magical story. The enchanting dialogue and descriptions will quickly pull young readers into this story of mystery, family, friendship, and the meaning of love and loss. Filled with rich emotions and a variety of colorful, winning characters, this novel will appeal to all types of readers. Told with rare candor and beauty."--Jane O. Wassynger, 8th Grade Literature Teacher, Greenville Middle School, Greenville, SC
"In richly evoked, small-town, rural Virginia, White brings two unique children together to explore the territory of sudden, shocking loss. The children find no easy answers but learn there is reconciliation and strength in the difficult act of forgiving. White writes wisely about a serious theme, but she leavens her story with good humor and a cast of unforgettable Southern characters."--Kate McClelland, Perrot Memorial Library, Old Greenwich, CT
"This story with universal appeal is a quiet, gentle work that is nevertheless extremely hard to put down, and I have had teens tell me that they were glad that I had recommended it to them."--Bonnie Kunzel, New Brunswick Free Public Library, New Brunswick, NJ
"
Belle Prater's Boy
does what outstanding literature ought to do: it both entertains and enlightens. Not only does this book offer readers the chance to journey to Coal Station, Virginia, but it allows them to return understanding more about truth, about choices, and about friendship. It is a book worth remembering. "--Kylene Beers, Sam Houston State University, Huntsville, TX
COPYRIGHT
Teaching Ideas prepared by Pat Scales, library media specialist, Greenville Middle School, Greenville, S.C.
FURTHER READING
Journey by Patricia MacLachlan[0-440-40809-1]
Missing May by Cynthia Rylant[0-440-40865-2]
ADDITIONAL RESOURCES
http://www.state.va.us/welcome.html